In the Media
"Best Income Tax Preparation 2022"
Date: April 2022

---
In the Media
"Business Profiles Etobicoke West"
Date: March 2022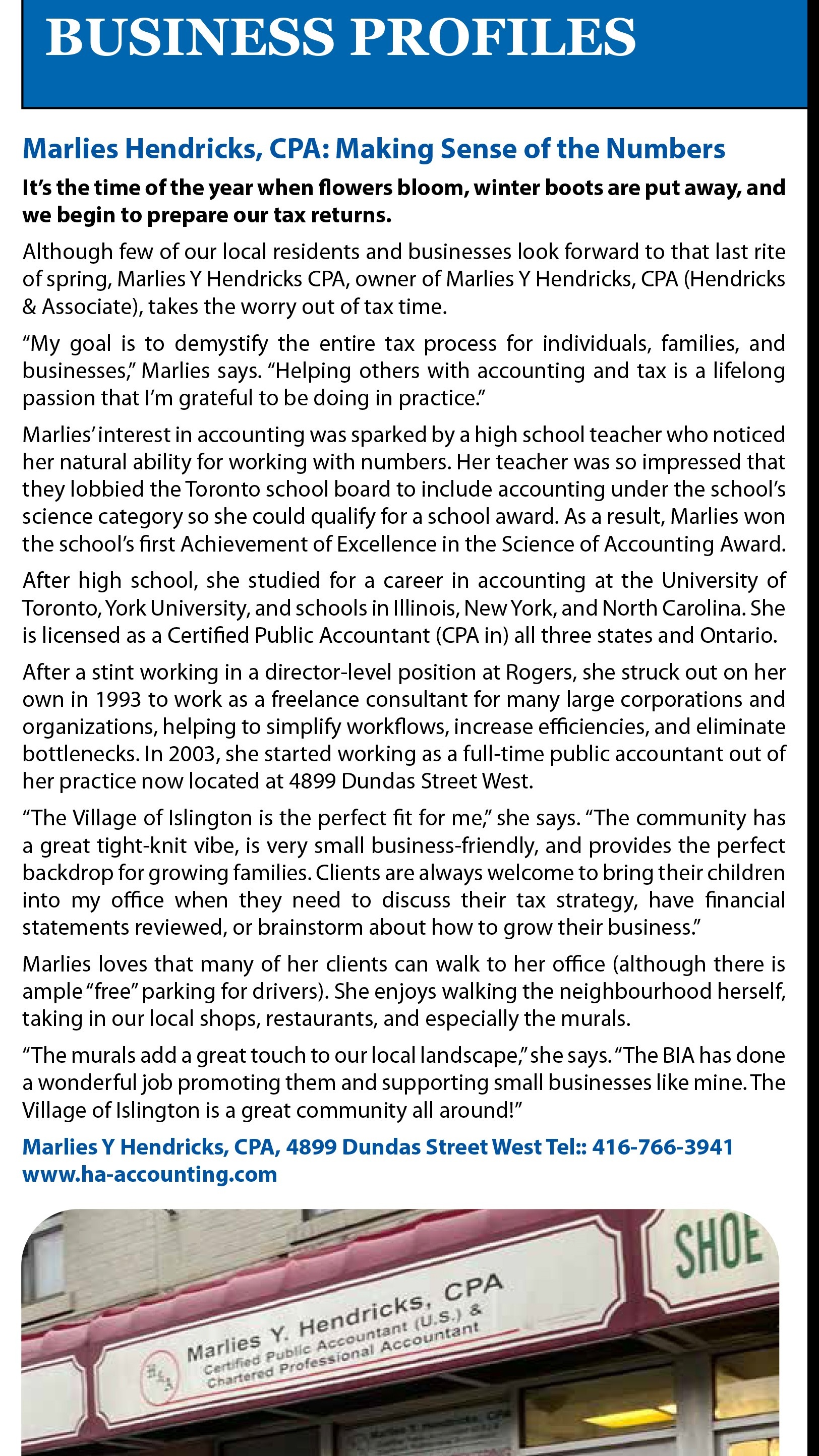 ---
In the Media
"Fall In Love With The Villiage"
Date: March 2007
For over 16 years, Hendricks & Associates, CPA, CGAs has offered clients timely, thorough and accurate accounting services. The full service firm has proven its merit, earning four consecutive Reader's Choice award nominations for Best Accounting and Tax Preparation Firm by the Bloor West Village and Annex area.
Marlies Hendricks, B.A.S., CGA, Licensed as a CPA in the state of Illinois, and founder of Hendricks & Associates, has a track record of 18 years accounting, bookkeeping, tax and system consulting experience. Her firm has grown to become one of the most established accounting firms in Toronto specializing in financial statements, small business tax strategies, corporate taxes, financial consulting and Canadian/US cross border corporate and personal taxes.
"I'm a tax expert specializing with small businesses," says Hendricks. "We help clients stay current, and on top of their work".
Hendricks says "many small business owners have too little time to dedicate to keeping their financial paperwork in order - especially if they're handling every other aspect of their business themselves." Her firm, which works mostly with incorporated businesses, prides itself on being very responsive to each client, promptly returning phone inquiries, getting to know each individual personally, and fully understanding relevant goals or obstacles.
"I know all my clients," says Hendricks. "I can tell who has strengths or weaknesses in a certain area, and help them develop their strengths."
Hendricks & Associates is a full service firm, looking after all needs of a client, from corporate taxes to worker's comp. to personal taxes and bookkeeping. "We make sure they're paying the minimum amount," she says.
Hendricks & Associates, located at 4899 Dundas Street West is conveniently open from 9a.m. - 6p.m. Monday - Friday, with weekend hours available by appointment. For more information, please call (416) 766-3941, or visit www.ha-accounting.com.
---
In the Media
"Women In Business"
Date: March 2005
Marlies Hendricks is the owner of Hendricks and Associates Certified Public Accountant & Certified General Accountants Firm. Marlies opened her practice in 1990 and has successfully been serving the community ever since.
She is a well-established Certified General Accountant as well as a Certified Public Accountant (US) that works with corporations and individuals to make sure their taxes are minimized. Her firm also ensures financial statements are accurate and timely, and her client's are kept current and abreast with the rapid changes in US & Canadian income taxes and accounting reporting changes.
Marlies has a specialty in Corporate Taxes and Personal Income Taxes. She also does small business tax advisories and accounting as well as business start-ups, expansions and dissolutions. She has consulted for such large companies as The Hospital for Sick Children and AT&T. Marlies has also won in the Villager's Reader's Choice Awards 3 years in a row for Best Accountant.